McEwen Mining is an asset rich gold and silver producer with large exposure to copper
McEwen Mining CEO Rob McEwen maintains a 17.3% ownership stake in McEwen Mining with a cost base of roughly $220 million
McEwen Copper's Los Azules project is one of the world's largest and most economically robust underdeveloped copper projects
A proposed IPO of McEwen Copper, with its implied market cap of $258 million, could effectively turbocharge the balance sheet of McEwen Mining
McEwen Mining (NYSE: MUX) (TSX: MUX) is an asset rich diversified gold and silver producer in the Americas and has a large exposure to copper through its subsidiary, McEwen Copper, owner of the Los Azules copper deposit in Argentina, believed to be the 9th largest undeveloped copper resource in the world.
Led by a management team with a track record of success, MUX owns and operates mines in some of the most prolific gold producing regions in the Americas. In recent months, the company has undertaken strong actions to lower production costs and increase production across its portfolio of gold assets, driving some costs below the industry average. Gold and copper prices are forecast to enter a major uptrend over the next couple years. McEwen Mining is laying the groundwork to capitalize on this opportunity now.
Seldom is management so aligned with investors' interests with a commitment to the company's success. CEO Rob McEwen maintains a 17% ownership stake in McEwen Mining and a 15% ownership in McEwen Copper with a combined cost base of roughly $220 million. McEwen founded Goldcorp, where he took the company from a market capitalization of $50 million to over $8 billion, and that same vision led MUX to create McEwen Copper.
For McEwen Mining shareholders, the company's 68% stake in McEwen Copper is expected to be a gamechanger, turbocharging MUX by creating the world's next copper unicorn.
McEwen Copper
Most mined copper is currently used in infrastructure, with new critical demand emerging for use in the electrification of transportation and the global energy transformation. The price of copper rose from a low of about $2 per pound two years ago to over $4 per pound today, and strong demand is expected to continue to soar. A study by S&P Global, titled The Future of Copper: Will the Looming Supply Gap Short-circuit the Energy Transition?, projects global copper demand to nearly double over the next decade, from 25 million metric tons today to about 50 million metric tons by 2035. Based on current trends, S&P Global projects annual supply shortfalls to reach nearly 10 million metric tons in 2035.
McEwen Mining is a 68% shareholder in McEwen Copper, holder of a 100% interest in the Los Azules copper project in San Juan, Argentina, which was ranked the 9th largest undeveloped copper deposit in the world by Mining Intelligence (2022). Its current copper resources are estimated at 10.2 billion pounds at a grade of 0.48% Cu (Indicated category) and an additional 19.3 billion pounds at a grade of 0.33% Cu (Inferred category). McEwen Copper also owns a copper exploration project in Nevada, called Elder Creek.
In a 2017 Preliminary Economic Assessment ("PEA"), Los Azules was estimated to have a 36-year life, but indications are that the project could ultimately become an even larger mine, with a longer life, since in the assessment, only 55% of the known copper resources are to be mined. Numerous drill holes have shown strong copper mineralization extending below the PEA pit bottom. Its average annual production for its first 13 years was pegged at 415 million pounds of copper in the 2017 PEA – enough copper to supply 2.2 million electric vehicles per year.
In August 2022, McEwen Copper closed its non-brokered, private placement offering of $82 million, after securing a $25 million investment from mining giant Rio Tinto's technology arm, Nuton LLC. This gives McEwen Copper an imputed value of $258 million, which would give McEwen Mining's 68% interest a value of approximately $3.70/share. Additional value can be attributed to McEwen Mining's 1.25% net smelter royalty on both the Los Azules and the Elder Creek projects.
"We completed an $82 million financing for McEwen Copper in a very tough equity market. Rio Tinto, the second largest mining company in the world, through its subsidiary Nuton, now owns 9.7% of McEwen Copper, a result of its investment of $25 million," Rob McEwen stated in a news release. "Also, Nuton is testing the Los Azules copper mineralization to see if it can accelerate and increase copper recoveries. Another of Rio Tinto's subsidiaries, Kennecott Exploration, signed an option to earn a 60% interest in McEwen Copper's other copper project, Elder Creek, by spending $18 million on exploration."
The Elder Creek project is prospective for porphyry copper and gold mineralization and is well situated in a district hosting several large copper and gold mines, including Marigold, Lone Tree and Phoenix. Kennecott Exploration will be the operator of the exploration program. McEwen Mining holds a 1.25% net smelter return ("NSR") royalty on the Elder Creek property.
Following the capital raise, McEwen Copper is well-funded to advance its Los Azules Project. Publication of an updated PEA on the Los Azules copper project is planned for Q1 2023. In Q2, an IPO is planned, along with MUX completing a secondary offering, assuming no further private placements in the interim. MUX is strategically reducing its interest to increase its treasury, in order to reduce debt and fund the further development of its gold and silver mines.
McEwen Copper currently has an implied market cap of over $258 million, based on its most recently completed financing. However, when its Los Azules copper project is compared with other recent transactions and market valuations of copper projects in the same region, it appears very undervalued.
MUX's management believes its ownership stake in McEwen Copper is not currently reflected in the share price of the company. In fact, it is management's belief that the combined value of its 68% interest in McEwen Copper, plus its gold mines and portfolio of mineral royalties, represents a share value ranging from a low of $8 to a high of $30 per share. Rob McEwen provides a full breakdown of this valuation estimate in a news release detailing the company's Q3 2022 results.
Gold & Silver Projects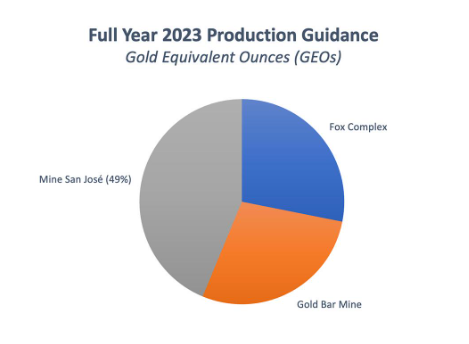 The Fox Complex
McEwen Mining owns a 100% stake in the Fox Complex in the heart of a prolific gold district in Timmins, Canada.
"When MUX bought the Fox Complex, in late 2017, it was a distressed asset with a history of high operating cost/oz. While it has taken longer than I expected, the cost to produce an ounce of gold is significantly lower," CEO Rob McEwen stated in a news release. "I am pleased to say that in Q3 our cash cost/oz at Fox fell to $774, our lowest since mid-2018. This is well below the industry average. With our mine operating much more efficiently, our next important area to improve at Fox is the process plant (mill). Specifically, we need to increase the throughput because our mine is now producing more ore than our mill can process. As a result, we have a large surface stockpile of ore equivalent to more than two months of production."
This ore stockpile contains approximately 10,000 ounces of gold representing a potential source of $12 million in free cash flow.
Located in one of the most prolific gold production areas in the world, along the Destor-Porcupine Fault Zone within the Abitibi Greenstone Belt, the Fox Complex includes the Black Fox mine and Froome mine which together have, so far, produced in excess of 1,000,000 ounces of gold. Also, it includes the Grey Fox and Stock deposits that have an estimated additional 1,600,000 ounces in reserves and resources. The 2.7-billion-year-old Abitibi Greenstone Belt, formed by ancient volcanic activity, has proved to be one of the world's richest and most abundant gold regions, boasting total gold content of over 300 million ounces.
Full year 2023 guidance for The Fox Complex puts production estimates at 45,000 GEOs, 28% of MUX's total production.
The Gold Bar Mine
McEwen Mining owns a 100% stake in the Gold Bar mine located in an area well known for gold production, the southern Roberts Mountains of the Battle Mountain-Eureka-Cortez gold trend in Eureka County, Central Nevada. The Gold Bar mine is on the same geological structure some 25 miles south of Nevada Gold Mines, a joint venture of Barrick and Newmont. This Cortez-Goldrush complex contains estimated reserves and resources of greater than 50 million gold ounces. Its annual gold production is 1,000,000 ounces.
Gold Bar had been previously mined, between 1991 and 1994, producing 134,000 gold ounces. MUX built a new facility in 2019. The open pit mine was expected to be a large contributor to MUX's revenue and gold production, however operating challenges arose that reduced gold production and drove cost/oz unacceptably high. Mining activities have shifted recently to a nearby, satellite deposit called Gold Bar South ("GBS"). Going forward the expectations are higher gold production and lower operating cost/oz as a result of mining a higher ore grade (concentration of gold per ton) and having to move half the amount of material to capture an ounce of gold.
"At Gold Bar, we are looking forward to starting to mine our GBS deposit this quarter," McEwen said in a November 2022 release. "We are expecting to have a much lower cost/oz than our YTD cost because we will be mining higher grade ore at GBS, with half the strip ratio and no problematic carbonaceous material."
The Gold Bar Mine will account for approximately 28% of McEwen Mining's 2023 total attributable production, with guidance pegged at 45,000 GEOs. Most of Gold Bar production in 2023 will be from GBS.
El Gallo/Fenix
Project Fenix is the proposed redevelopment plan for McEwen Mining's El Gallo Complex in Mexico. There is a long history of mining in this region. MUX's involvement began in 2013 operating it as an open pit, heap leach mine which produced 281,000 gold equivalent ounces at average cash cost of $655 per ounce. However, due to the transition to deeper sulfide mineralization that is not amenable to heap leaching, mining activities ceased in the second quarter of 2018. The redevelopment envisions constructing a mill at the existing mine site that will initially reprocess the existing heap leach material then transition to open pit mining and processing the sulphide mineralization. The company recently acquired a complete process plant on very advantageous terms that has considerably reduced the projected capital requirements for the project.
CEO Rob McEwen stated in a news release, "This acquisition has made Fenix more attractive to build and could provide a new long life mine for McEwen Mining."
The initial development approach is to build a mill to reprocess the material on the heap leach pad and produce approximately 17,000 oz of gold annually for eight years. Construction of the Fenix project is expected to be completed by early 2024.
Mine San José
McEwen Mining is a 49% owner and non-operator of the San José gold and silver mine located in Santa Cruz province, Argentina. This high-grade underground mine has been operating since 2007 and currently has an expected life of six years with a reserve grade of 342 gpt silver and 5.7 gpt gold and a resource grade of 427 gpt silver and 7.0 g/t gold.
"The San José mine, where we have a 49% interest, put in a strong quarter and its exploration is continuing to extend its high-grade veins and discover new veins," McEwen noted in a news release.
Production guidance for 2023 for MUX's 49% is 70,000 GEOs, 44% of MUX's total production. As a minority shareholder in the mine, MUX equity accounts for its investment in San Jose, and it receives 49% of the dividends from the mine's free cash flow.
Market Outlook
Mining stocks took a beating in the wake of the COVID-19 pandemic. However, that could change, as many analysts are now forecasting a gold bull market in 2023.
"The operating challenges we faced in recent years have severely damaged our credibility with our shareholders and the market. As a result, few investors have taken a close look recently at our assets," Rob McEwen said in a news release. "If they did, I believe some would see the potential value that I see today… I believe there is considerable potential value in MUX, and that is a big reason why I have a personal financial commitment of $220 million in MUX and McEwen Copper."
Management Team
Robert R. McEwen is Chairman, CEO and Chief Owner of McEwen Mining. He has been associated with the gold industry all his career, with his first 18 years in the investment industry and, since 1990, as CEO of several gold mining companies. He founded Goldcorp and took that company from a $50 million market capitalization to more than $8 billion. He owns 17% of McEwen Mining and is in complete alignment with investors – the cost of his investment in MUX and McEwen Copper is $220 million and he takes an annual salary of only $1. He was awarded the Order of Canada and the Queen Elizabeth's Diamond Jubilee Award, was inducted into the Mining Hall of Fame, was named an Ernst and Young Entrepreneur of the Year and has Honorary Doctor of Law degrees from York University and Western University.
William Shaver is interim COO and a Director of McEwen Mining. He has decades of management and executive experience in mine design, construction and operations. He was a founder of Dynatec Corporation, which became one of the leading contracting and mine operating groups in North America. In 2013, he was recognized as Ernst and Young Entrepreneur of the Year. Most recently, he served as COO of INV Metals. He is a Professional Engineer with a B.Sc. in Mining Engineering from Queens University.
Perry Ing is interim CFO at McEwen Mining. He has 25 years of experience in the Canadian mining industry. Over the past 15 years, he has held positions as CFO of Mountain Province Diamonds, Kirkland Lake Gold and McEwen Mining. Prior to that, he worked at Barrick Gold and Goldcorp and started his career in the mining practice at PwC. He has a Bachelor of Commerce from the University of Toronto and is a Chartered Professional Accountant in Canada and Certified Professional Accountant in the U.S.
Adrian Blanco S. is the company's Director – America and Mexico Operations. He has extensive international experience in several industrial sectors and has held executive positions in Mexico, the United States, Peru and Argentina. He joined the McEwen Mining team in 2015 and has led a successful business transformation toward operational discipline, best business practices and financial profitability at subsidiaries Compañia Minera Pangea and McEwen Mining Nevada. He graduated from an Executive Management Program at IPADE and Harvard Business School.
Michael Meding is Vice President and General Manager of McEwen Copper. He has over 20 years of international experience, primarily with major mining companies such as Barrick Gold and Trafigura, including extensive experience with project development and operations in Argentina. While at Barrick Gold's Veladero mine in Argentina, Mr. Meding played a key role in the turnaround, extension of the mine life and subsequent strategic partnering with Shandong Gold. He holds an MBA from Indiana University in Pennsylvania and an MBA from the Leipzig Graduate School of Management in Germany.
For more information, visit the company's website at www.McEwenMining.com.
NOTE TO INVESTORS: The latest news and updates relating to MUX are available in the company's newsroom at http://ibn.fm/MUX
About MiningNewsWire 
MiningNewsWire (MNW) is a specialized communications platform focused on developments and opportunities in the global resources sector. The company provides (1) access to a network of wire services via NetworkWire to reach all target markets, industries and demographics in the most effective manner possible, (2) article and editorial syndication to 5,000+ news outlets (3), enhanced press release services to ensure maximum impact, (4) social media distribution via the Investor Brand Network (IBN) to millions of social media followers, and (5) a full array of corporate communications solutions. As a multifaceted organization with an extensive team of contributing journalists and writers, MNW is uniquely positioned to best serve private and public companies that desire to reach a wide audience of investors, consumers, journalists and the general public. By cutting through the overload of information in today's market, MNW brings its clients unparalleled visibility, recognition and brand awareness. MNW is where news, content and information converge.
To receive SMS text alerts from MiningNewsWire, text "BigHole" to 888-902-4192 (U.S. Mobile Phones Only)
For more information, please visit https://www.miningnewswire.com
Please see full terms of use and disclaimers on the MiningNewsWire website applicable to all content provided by MNW, wherever published or re-published: https://www.miningnewswire.com/Disclaimer
MiningNewsWire
Los Angeles, California
www.miningnewswire.com
310.299.1717 Office
Editor@MiningNewsWire.com
MiningNewsWire is part of the InvestorBrandNetwork.